04 Oct

Peace of mind with ATL MOT Equipment: 3 Steps for success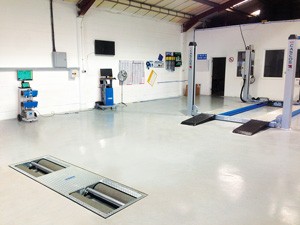 You've heard us say before that purchasing the right MOT equipment isn't easy and that it can take time to find the right supplier, from first visit to initial MOT inspection.
Not only that, we live in times where the budget required to make such an investment can be hard to justify. The price of a job is quite low in comparison to the price of the equipment needed.
It can take time for garage equipment to pay its way, by it will do so and in tremendous fashion!
Here at Hofmann Megaplan, our many years of specialist experience and after-sales service in the MOT sector have taught us numerous lessons, especially when it comes to supplying our renowned MOT Bay Packages.
Check out our advice on purchasing the MOT Equipment that's right for you:
Heed our expert advice or suffer the consequences…
The new rules on MOT equipment, put forward by the DVSA, are starting to change the game for MOT equipment suppliers and garage owners alike. Extra precautions must be taken to ensure your MOT testing bay adheres to these connectivity rules.
Follow our three steps to MOT greatness:
MOT Lift
The centre piece to your MOT operations! A reliable and robust MOT Lift cannot be understated.
Making sure the lift can firstly fit into your garage without a hitch and meeting all regulations, you must be mindful of the difference between a standard 4 post lift and a MOT lift. If there is a lack of space or security features for your operators you're going to be stuck before you start.
Connected Testing Equipment
​The new rules brought in by the DVSA have caused a bit of a stir across the MOT sector.However, the possibilities available if the correct equipment is purchased can increase your garages productivity. Offering a seamless flow of automatic data from your testing equipment, these connected tools can supply quick and easy reporting for both you and your customer.
Service – before, during, after
Although not strictly a piece of MOT equipment, the importance of correct planning, application, installation and equipment maintenance is just as valuable as the product itself. Most MOT equipment suppliers will offer some sort of maintenance package – some with warranty, some with parts & labour, some with both.
It is important you read the small print on these plans, as you could be getting less than you originally thought!
Check out our latest MOT offer – combining our incredible after-sales service with our untouchable MOT Bay Packages!
MOT connectivity dates to remember!
​The introduction of the DVSA's new rules mean new or replacement equipment you buy must be connected.
Not sure if this applies to your equipment? Call us today for an update consultation to ensure you're only upgrading when its needed.
This applies to:
roller brake testers (from 1 October 2019)
decelerometers (date to be confirmed)
diesel smoke meters (date to be confirmed)
exhaust gas analysers (date to be confirmed)
headlamp beam testers (date to be confirmed)
Speak to the experts!
Check out our ATL MOT equipment range for more information.
To discuss your MOT requirements in more detail, contact us online or call our dedicated specialist division on 01480 8-9-10-11 today.